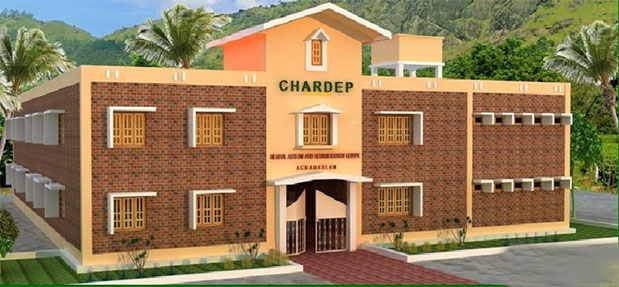 In India, socio-economic factors sued as poverty, lacs of priority for mentalhealth in tire public health care system and the stigma associated with mental illness result in the mentaffy iff becoming roadside destitutes.
Mentally ill people are brought to Kanyakumari and abandoned by families from other districts and states. Some afsoarrh'e here by accident. Added to the population of mentally ill people , this has resulted in a large number ofmentalfy iff people Irving on the streets of kanyakumari district,
There is a limited number of facilities itr -Jamilnadu that would extendffee treatment and accommodation to mentally ill persons
Chardep recognises that & is our duty to restore to the abandoned mentally iff people the rights they hate been aeprivedof— the right to she&er.food, medical care and a fulfilled life.



Services & Benefits
Medical Treatment for their mental illness
Protection for abuse
Recognition of their and problems by society and due to support.
Love and Peer support and proffesional guidance.
Vocational therapy to develop self confidence.
Gradual Recovery from mental illness and overcoming addictions of various kinds.
Management of their illness and family counselling to enable them to be accepted within the family again.
Support for Construction
Chardep is totally comitted to care of mentally ill people. The Organization has contributed 10.31 acres of land in its name towards construction of the centre.
The entire contruction is to be melt through your (Public) Contributions. your support and generous contributions are necessary for us to complete the construction of the centre and provide hope to the abandoned mentally ill people.
your contributions can be CPSJC or in the form of materials such as bricks and steel rods metal woods etc. are welcome.
Supporters are welcome to contruct online rooms of their choice, or they can contribute to the building cost at the rate of RS 1300 per square fool.
The names of donors who construct a room and those who contribute RS 10000 and above will be gratefull displayed prominentelly in the building.
Infrastructure to be Constructed
Doctor's room nurses stations, dispensary.
Dining Hall, visitors lounge.
Outdoor recreation facilities.
Bathrooms and toilets.
Office
Treatment Facilities.
First Floor
Counselling Facility
Yoga and Meditation Hall.
Vacational Therapy.
Indoor recreation facilities.
Building Materials that are needed
| | | |
| --- | --- | --- |
| | Particulars | Quantity Needed |
| | Cement | 3000 Bags |
| | Bricks | 1,24,000 nos |
| | Sand | 12,000 cubic feet |
| | Stone | 12 lorry loads |
| | Metal | 12,000 cubic feet |
| | Steel rods | 25 tons |
| | Wood for Doors and windows | 20 Doors, 40 Windows, 20 Ventilators |
| | Iron Gate | 5 nos |
In addition to the above the construction work will need electrical wiring and fittings, plumbing, flooring (tiles and marbels etc) etc. for a total of 7000 sq ft of plinth area